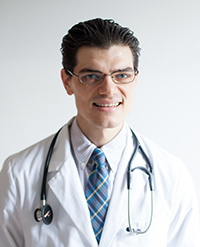 Dr. Jack Weber DC,ND,FIAMA
believes in whole person centered care and encourages his patients to take charge of their health by developing and implementing a plan of action with their physician. This plan of action includes identifying and removing the obstacles to wellness, providing the body the conditions for health and using natural substances to restore and optimize health. Dr. Weber is passionate about preventative medicine and encourages patients to become aware of challenges in their health and advocates a healthy lifestyle.
Dr. Weber began his education with a bachelor's degree in biomedical science with a concentration in nutrition. He is qualified to provide safe, evidence-based dietary advice and personalized nutritional treatment plans in both preventative and therapeutic settings. This knowledge combined with naturopathic principles and his education in botanical medicine and natural biochemical substances provides the environment for patients to support their health naturally.
Dr. Weber is a fifth generation chiropractor and graduated magna cum laude with doctorates in chiropractic and naturopathic medicine from the prestigious National University of Health Sciences. Dr. Weber was valedictorian in both graduating classes and received the Joseph Janse Award for outstanding graduate of his class. As an intern during his education, Dr. Weber helped bridge naturopathic medicine with The Wellness House, a community center for individuals with cancer. Even as a student, Dr. Weber was and is today, a true health advocate, educator, and motivator.
Dr. Weber is a Fellow of the International Academy of Medical Acupuncture and can provide medical acupuncture to support a wide variety of conditions. Dr. Weber also received post graduate training at the Institute of Functional Medicine. Functional medicine is the evolution in the practice of western medicine that better addresses the healthcare needs of the 21st century. Functional medicine shifts the traditional disease-centered focus of medical practice to a more patient-centered approach. Also, functional medicine addresses the whole person, not just an isolated set of symptoms which coincides with his naturopathic and chiropractic principles. Dr. Weber takes pride in his ability to implement various natural approaches in primary care to support his patients on their path to wellness.
While receiving his medical education, Dr. Weber met his wife, Dr. Melissa Weber, who shares the same passion about health. Together they strive to share their knowledge with patients through an integrative multidisciplinary approach.